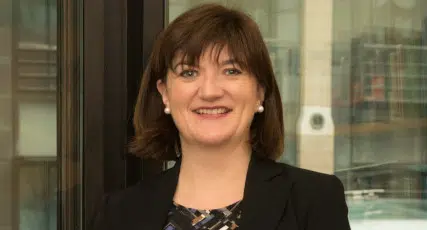 Nicky Morgan was MP for Loughborough from 2010 to 2019. She was awarded a peerage in 2019.
Nicky studied law at Oxford University. She worked as a solicitor specialising in Corporate Law advising a range of private and public companies from 1994 until her election in 2010.
Nicky previously served as Secretary of State for Digital, Culture, Media and Sport (2019 – 2020); Chair of the Treasury Select Committee (2017 – 2019); Secretary of State for Education and Minister for Women and Equalities (2014 – 16); Financial Secretary to the Treasury (2014); Minister for Women (2014); Economic Secretary to the Treasury (2013 – 14); an Assistant Government Whip (2012 – 13); and the Parliamentary Private Secretary (PPS) to the Rt Hon. David Willetts MP, Cabinet Minister for Universities and Science (2010 – 12).
She is the author of 'Taught not Caught: Educating for Character in the 21st Century'.