March 18, 2020
Posted by:

Finito Team

Categories:

Careers, Future of Work, Tips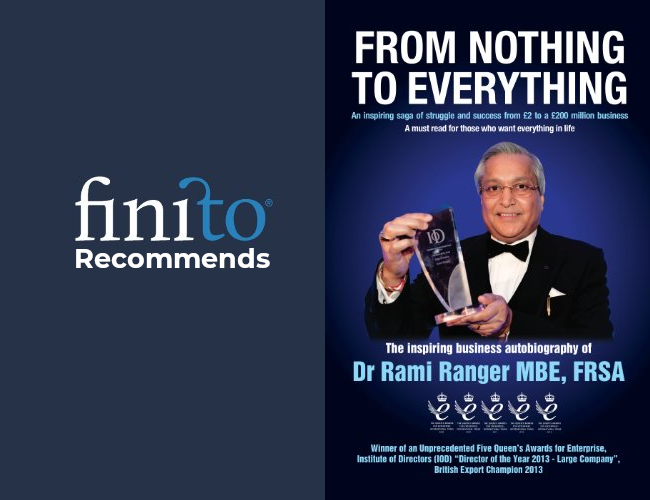 Personal development never really stops – but there are certain things you should really have achieved by a certain age, otherwise you'll come up against barriers later in your life. In this series, we're going to be exploring a few of the check-boxes you should be ticking in each decade of your professional life, and we'll look at what you need to do in order to cross them off your to-do list. Regardless of your industry, there's always room for improvement. There are plenty of different ways to better yourself, but we're firm believers in the tried-and-true methods. That's why we'll be exploring our favourite books in this regular series – so you can fill your shelves with non-fiction, and your brain with skills, beliefs and values that ought to help you advance your career.
Why Should We Care?
Philanthropist, political reformer and award-winning business owner, Lord Ranger CBE founded his first business in the late 80s with just £2 and a typewriter. Forty years on, he oversees Sun Mark, one of Britain's fastest-growing businesses, with a turnover of £160m. With five successive Queen's Awards – an MBE, followed by a CBE – and now an invitation to the House of Lords, his pursuit of greater social and political opportunities for the British Asian community is worthy of everybody's attention. 
What's It About?
From Nothing to Everything follows Lord Ranger's journey from rags to riches. From the break-up of India in 1947, through traumatic childhood hardships including the assassination of his father, to Lord Ranger's emigration and following fight against prejudice – this is a story of struggle and success, with a young immigrant taking the helm.
Some of the lessons Lord Ranger CBE shares were clearly instilled in by his mother, a woman who refused to give up on her children after losing her husband and homeland. He offers insight into business and a life lived to the fullest, showing that "one does not need a rich father, an elite education, or the old schoolboy network to help one in life."
Lord Ranger's principles of success include self-respect, work ethics, empathy, vision and commitment, and he offers sage advice for those of us who don't really know where to start. The book is crammed with perceptive observations,and inspirational anecdotes.
Who's It For?
This would be a valuable read for anybody with a keen interest in entrepreneurship – but honestly, the appeal extends further, thanks to Lord Ranger's ability to apply business advice to real life. 
If you're looking for a set of guidelines to structure your life, and navigate your career with passion and grace, this book is a very sensible place to start. Climbing the ladder often takes a well-rounded understanding of unspoken etiquette, and From Nothing to Everything helps to build that foundation.
For more advice on how to maximise your potential in the workplace, speak to Finito to find out how The Employability Experts can help you take your career to the next level.