September 12, 2019
Posted by:

Finito Team

Category:

Interviews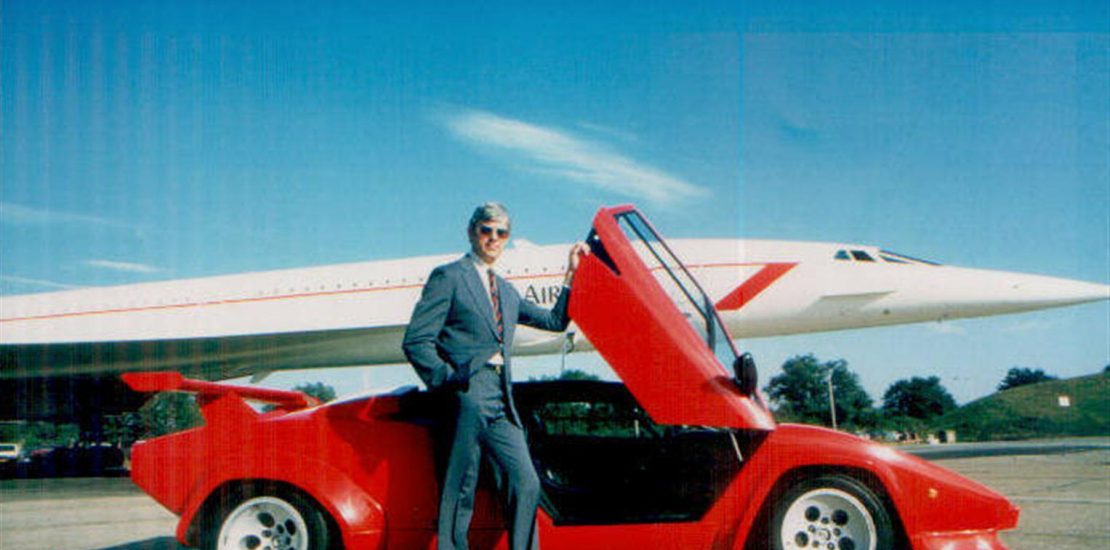 In 1983, Fred Finn was awarded a place in the Guinness Book of World Records, after it was confirmed that he had flown more miles than any person in history. He took 718 journeys on Concorde (another record) and he's visited 150 countries over a 61-year career of business and pleasure. He once flew between London and New York three times in one day. He was the number one writer on Trip Advisor, he played for the Concorde cricket team, and he's taken Richard Branson on safari. He's also writing a book, Tails of Finn, in which he shares his stories from 60,039ft up.
We got the chance to sit down with him for a chat about Finito, his career, and the advice he has for young professionals.
Why do you think Finito is important today?
When I was younger and seeking a position, I didn't have a mentor. I didn't have anybody to talk to about the process of finding a job, let alone somebody to guide me through it. I made a lot of wrong turns, surviving mostly through stubbornness – and although I managed to turn them into right turns, I could have saved a lot of time if I'd had a company like Finito to provide that mentorship I was lacking.
Can you tell us a bit about your first experience with a job hunt?
When I left school at 16, I wanted to play cricket. I hadn't enjoyed my experience in education, so I wasn't planning on going to university – No, I wanted to play cricket, for Kent. So when my father moved us to Devonshire (who don't have a cricket team) it was like a thunderbolt hit me.
While my friend went on to play cricket for Kent (and then his son for MCC and England), I had to go out and get a job. I spent a 9 months at Montague Burtons, and then Curry's – but what I really wanted to do was get a job as a representative.
Did you manage to get that rep job?
I secured myself interviews, but was told again and again that I didn't have any experience. Since I didn't have a mentor, or a company like Finito to help me figure things out, I thought, 'well, I'll never get experience' and I went down to the docks, saw a ship — a little coastal vessel — asked for a job, was accepted and, was seasick for three days.
I went to ESSO in London, at Thames House North – I remember it very well. I asked for a job, they said yes and flew me out to America, to work on board a tanker where I was promoted many times over four years. I had the opportunity to study as an alternative to National Service. I came back to the UK and continued studying – in the evenings I parked cars at a casino, earning £100 a night. I did so well that I caught the eye of Mr Guccioni, who promoted me to become a maître de hotel. (Later, I flew on Concorde with him, and he congratulated me and gave me honorary membership to the club I used to work in.)
One of the clients told me I should go to Canada – and since I'd decided I didn't have the right accent to get a job as a rep here, I went to Toronto. Within three months, I had fifteen job offers – and this was at a time when it wasn't easy to find work! The company I joined made magnetic plastic signs that you use on vehicles instead of sign writing. Since they saw the UK as a market for this product, I flew to London and visited several businesses on Staines High Street to secure orders for them. I went back to the manufacturers to say, "yes, this will sell in the UK", and then set up a facility in London to manufacture here.
The company decided I should move to New York, where they were trying to introduce a food distribution pump to every major distributor for the catering industry in the US. I had the time of my life. I drove to every major city and every state in America. I learned how to deal with people from all walks of life. I heard different accents, from New York to Detroit to Minneapolis, all the way down to Nevada and San Diego. I learned how other people lived, how other people reacted to things, and how to get along with other people.
The company closed down. I applied for many jobs, but they said, "If you're so good at what you do, why did the last company you worked for close down?"
After an arduous job hunt, I accepted a job in Connecticut, The next day, the chairman of Hasbro called.
"Look," he said. "We've got a product here that we want to licence, and we want you to do it for us."
"I wish I could," I said. "But I accepted a job yesterday."
"Who's it with?" He asked.
"A company in Connecticut."
He asked if he could speak to them about me. It turned out they were one of Hasbro's major suppliers – and they wanted to stay that way. So, two days later, I started work for Hasbro. I licensed the manufacturer in the UK, Iran, and Argentina. By 1984 I had exhausted the number of companies that we could licence to keep everyone competitive.
What happened then?
Well, I was becoming quite a noise in the travel community, because I was travelling by Concorde – it was the only way I could get to remote areas quickly enough. When I did my 150th flight, the Daily Express New York office picked this up and wrote an article. By 1987, I was in the Guinness book of records for some time. I met Ronel, the founder of Finito. He provided a sensible influence, keeping an eye on me and ensuring nobody had the opportunity to take advantage of me. It might not have been called Finito at that point, but the essence of it was there: education, training – sharing knowledge.
You've since become a popular keynote speaker, but public speaking is something that makes a lot of people nervous – what's your secret to winning over a room?
Oh, I was the most nervous person in the world. My father was an academic who wrote 30 books on the English language but he patronised me, and told me we had nothing in common. So I grew up anxious. I couldn't go into a doctor's office if it was full of people. Ask me to stand up and talk to a room? Oh my god. I was a nervous wreck.
I started out speaking for 20 to 30 minutes at a time, talking about Concorde and what it did for my health. I was nervous every time, until one day someone in my audience stood up and said, "Mr Finn, your Concorde is an absolute gas guzzler!"
"Really?" I said. "What do you do?"
"Well," he said. "I'm a barrister. And I work in the City, so I know what I'm talking about."
I asked, "How do you get into the City?" In a Jag, he said. "Very nice," I told him. "But your Jaguar burns more gas per mile than my Concorde."
So everyone clapped, and he sat down. I wasn't being clever – I just knew my facts. And all of my stories are based on facts. I have a passion for it. I'm Fred to everyone, and when I do inspirational talks, I'm only talking about what I know. The hijacking. Landing with the wheels up, the stories are great – because they're true. No arrogance, no ego. I never recommend anything I haven't used. So there's really no need to be nervous of speaking in front of people – you just have to tell the truth.
You're the co-founder of Quicket, a mobile travel app that utilises cutting-edge technology to take the pain out of travelling by plane. How can you see it benefiting young professionals who need to travel frequently for work?
When you buy tickets for a flight, the airlines show you a seat plan that is not accurate regarding seat pitch, etc.
When you buy a ticket with Quicket, you're able to virtually walk on board the aircraft, and sit down in the seat. And then you can see what you're paying for – the power, the fold-down tray, whether or not your knees are touching the seat in front.
When you're in the air, you can look at the ground you're flying over. It saves your tickets in PassWallet; it shows you how to get in and out of the airport. It turns a process that can often be a nightmare into something painless. It's a one-stop travel app, for everything you need.
You've met so many people through business and travels – what should one do to make a great first impression?
When you're on Concorde everyone assumes you have a right to be there. I just talk to people normally – even if they're extraordinary people. Dolly Parton spent a whole flight telling me jokes, once. Paul McCartney used to say 'how are you doing?' when he saw me. I had several conversations with Mohammad Ali!
I say hello to people. I dress properly for flying – I think that's respectful. The best way to navigate conversations is to be polite. You'll never get in trouble for being well mannered, after all.
The flip side to that is that people sometimes mistake well mannered for 'soft', and they try to take advantage. When you're at the top of the ladder, you should be nice to everybody beneath – you never know whom you're going to meet on your way down. It's a good job I had Ronel to guide me, and help me get the best advice from the best people.
It's impossible to avoid mistakes throughout your career – how do you handle them when they happen?
If you've made a mistake, you've just got to be honest about it, I think. Hold your hands up, and try to think of a way to fix it. If you get fired for being honest, you don't have a good boss – and it's their loss.